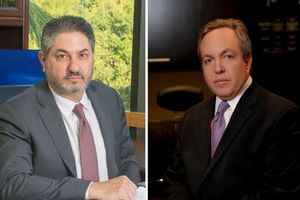 Following their 2021 appearance, SEC whistleblower attorneys Scott Silver and David Chase were invited back to the 'Cut To The Chase' legal podcast to discuss SEC whistleblower program updates and the relevance of the program in recent news, including the collapse of FTX.
'Cut To The Chase' is hosted by Miami attorney and entrepreneur Gregg Goldfarb, who discusses legal and public interest news with authorities in their field.
Scott Silver and David Chase, who each have their own separate law firms, have formed a strategic alliance to work together representing SEC whistleblowers.
Scott Silver is the managing partner of Silver Law Group, a nationally-recognized law firm that helps investors recover losses caused by stockbroker misconduct, fraud, and Ponzi schemes.
David Chase formerly worked as an attorney in the SEC's Enforcement Division and now runs The Law Firm of David R. Chase P.A. where he works on securities and regulatory matters and helps investors recover losses.
What Is The SEC Whistleblower Program?
The host asked why the SEC whistleblower program was needed and how it differed from the False Claims Act, federal qui tam cases, and other avenues for reporting misconduct to the government.
Scott clarified that the False Claims Act had to do with people overcharging the government, and the SEC whistleblower program is intended stop people who are "ripping off mom and pop America…We're seeing a lot of cases involving cryptocurrencies, hedge funds, and a trend involving illiquid investments, where people are being defrauded by good old fashioned Ponzi schemes, boiler rooms, and other investment frauds."
David Chase explained that almost anyone can be a SEC whistleblower if they have knowledge of a fraud, including an insider, or an investor who was pitched a fraudulent deal. A whistleblower doesn't have to be an insider, and they are allowed to use public information "as long as they do an analysis that's unique, and essentially connects dots that aren't visible to the naked eye," David said.
David told Gregg that there is no requirement for SEC whistleblowers to first report their concerns internally, but that whistleblowers often try that first.
Scott explained how a company's failure to address misconduct allegations can lead an individual in the organization to become a whistleblower: "They're working at a company, they become aware of misconduct at the company, they report it to their superiors thinking and assuming that the superiors are going to take the complaint seriously and investigate. Unfortunately, we constantly hear stories about…rather than getting support from management, management realizes that they've been involved in the wrongdoing, and that person gets terminated. That person wasn't seeking to become a whistleblower. That's when, frequently, they come to us."
Employees who raise concerns about wrongdoing at their company can't be fired for doing so, or for filing an SEC whistleblower tip. So, if their companies want to get rid of the whistleblower, they will use a pretext.
David pointed out that individuals in companies often resist correcting their wrongdoing because it's so lucrative: "Executives don't want to be a good corporate citizen because they're making so much money. They're making millions of dollars by, for example, manipulating the numbers to meet analyst expectations…What we see as a common thread through a lot of these whistleblower cases…is that corporate greed drives the bad conduct. And if someone is raising internal issues, they're gone because there's way too much money on the table to risk by trying to do the right thing."
While there are many types of misconduct that could lead the SEC to investigate a whistleblower's tip, Scott told the host that there are two main types of fraud that he and David see a lot of: pumping up a stock's price or lying about a company's performance so it looks better than it's actually doing. "It's always being driven by financial fraud. They're engaging in financial shenanigans to line their own pockets…As long as greed exists, these problems are going to go on," Scott said.
The SEC whistleblower program provides for potentially very significant financial rewards, which can be up to 30% of the sanction the commission collects from the wrongdoer. But David Chase doesn't think money is the primary motivation for many whistleblowers: "Many of our clients are blowing the whistle with the SEC out of genuine concern about the wrongdoing, being upset with those in power abusing that power."
FTX And Cryptocurrency Fraud
Cryptocurrency has experienced explosive growth in recent years and has been involved in countless frauds. The SEC has been involved in stopping fraud that used cryptocurrency, including fraudulent cryptomining and trading schemes, and Ponzi schemes that used cryptocurrency.
Regarding the collapse of cryptocurrency exchange FTX and the criminal charges against its co-founder and CEO Sam Bankman Fried, no one knows if someone blew the whistle on them because the SEC protects the identities of whistleblowers.
The SEC has sued Bankman Fired and two others. David said that it could be that someone blew the whistle on FTX and provided original information that led to the investigation, and they potentially could have a very big payday. "Certainly, that type of case where you've got misuse of investor funds and fraudulent representations etc, is exactly the type of case an SEC whistleblower is suited for," David said.
Experienced SEC Whistleblower Attorneys
SEC whistleblowers help everyone by notifying the government of conduct that harms the investing public. They can also earn financial compensation for themselves. Hiring experienced SEC counsel may substantially increase the probability that the SEC initiates an investigation based on your information. An attorney can also help you remain anonymous by submitting everything on your behalf.
Silver Law Group and the Law Firm of David R. Chase jointly have experienced SEC whistleblower lawyers, including a former SEC Enforcement attorney on the team. Our SEC whistleblower attorneys can help you if you have information regarding securities or investment fraud, violations of federal securities laws, false filings, market manipulation, or other misconduct. You must provide timely, credible, and original information or analysis in order to be eligible.
Contact us through our online form or at (800) 975-4345 for a consultation. Our attorneys work on a contingency fee basis, so it costs you nothing to hire us, and we collect our fees only if you receive an SEC bounty. Because we get paid when you do, we have the incentive to help you collect the maximum award available.