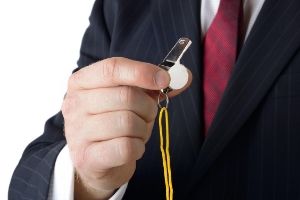 On Thursday, April 16, 2020, the Securities & Exchange Commission ("SEC") stated that it had awarded more than $27 million to a whistleblower who tipped officials to misconduct which occurred overseas, in part. This historical award "marks several milestones for the program," according to Jane Norberg, Chief of the SEC''s Office of the Whistleblower.
Following the whistleblower's tip to the SEC, the whistleblower played a crucial role in assisting the Commission with their investigation. The whistleblower's invaluable assistance helped the SEC save significant resources it would have expended otherwise.
According to Jane Norberg, "[t]his is the largest whistleblower award announced by the Commission this year, and the sixth largest award overall since the inception of the program. This award also brings the total amount awarded to whistleblowers by the SEC over the $400 million mark."
Type of Misconduct That Can Lead to a Whistleblower Reward
If you have, or are aware of information concerning securities fraud or other misconduct, you could receive a significant financial rewarded for bringing forth this information as a whistleblower.
The SEC has identified several types of allegations that can lead to a whistleblower reward, upon a successful enforcement action: (1) Corporate Disclosures and Financials; (2) Offering Fraud; (3) Manipulation; (4) Insider Trading; (5) Trading and Pricing; (6) FCPA; (7) Unregistered Offerings; (8) Market Event; (9) Municipal Securities and Public Pension; (10) Crypto Currency; and (11) Other. This is not an exhaustive list, and Silver Law Group is well-equipped to assist you in filing a whistleblower claim.
To File An SEC Whistleblower Complaint, Call Silver Law Group Today
The Silver Law Group is prepared to assist your legal needs if you have information regarding securities fraud, financial crimes, or any other types of illegal conduct, which could lead to whistleblower complaint. The Silver Law Group's invaluable experience, in representing whistleblowers, provides a unique advantage in assisting those who are ready to bring justice to the securities industry. Our attorney's are investor advocates frequently representing defrauded investors and angry Wall Street employees who have been victimized by bad practices on Wall Street.
Scott Silver, wrote an SEC Whistleblower Primer at the inception of the SEC Whistleblower program and, over the last decade has represented retail customers and brokerage firm insiders in SEC Whisteblower claims. Our attorneys have extensive experience representing investors and wrongfully terminated stockbrokers in FINRA arbitration claims that can progress on parallel tracks with an SEC Whistleblower claim.
Call us toll free at 800-975-4345, or use our online contact form to get in touch.