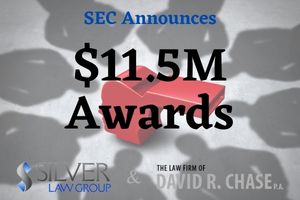 The SEC continues awarding monies to whistleblowers who assist staff with information that either leads to a successful enforcement action or makes things easier for investigative staff.
Two whistleblowers have been awarded a combined bounty of $11.5 million. The first whistleblower received an award of nearly $7 million, and the second received $4.5 million for information and assistance in the case.
In the SEC's order, Secretary Vanessa Countryman stated that:
Both claimants had independently and voluntarily provided the SEC with credible and relevant information in regards to the company in question leading to a successful enforcement action
The first claimant "persistently" contacted the SEC with information for years before staff finally opened an investigation
Claimant 1 was also the primary source of information for the investigation, offering information that would have been nearly impossible for staff to uncover otherwise
This included the identification of witnesses and helping SEC staff understand the "complex fact patterns" involved in the case
The first individual "made persistent efforts to remedy the issues, while suffering hardships"
Claimant 2 also voluntarily offered information that was based on "recent experience" and offered staff a "better understanding" of the issues
This whistleblower also offered considerable assistance to staff throughout the investigation and assisted SEC staff evidence requests and settlement negotiations
However, Claimant 2 delayed reporting to the SEC for "several years" after learning of the wrongdoing, which led to an appropriate reduction of the award
As always, all identifying information regarding the whistleblowers is kept confidential in compliance with the Dodd-Frank Act. The SEC has surpassed the $1B mark in awarding whistleblowers, which is not taken from recovered investor's monies.
SEC Whistleblower Program
Our attorneys have successfully recovered whistleblower awards on behalf of wall street insiders and others who successfully report to the SEC. The Whistleblower Program has grown dramatically in recent years and highlights the need for more people to speak out against securities and investment fraud. The SEC has crafted a set of rules that allows Whistleblowers to report anonymously but requires a whistleblower to have substantial information that was not previously known to the SEC. Our SEC Whistleblower attorneys have seen a rise in cases involving misconduct by wall street brokerage firms and egregious misconduct relating to sales and trading activities.
Retaining Experienced SEC Whistleblower Attorneys
Whistleblowers help everyone by notifying authorities of conduct that harms the public, while also earning financial compensation for themselves. Hiring experienced SEC counsel will greatly increase your chances of the SEC initiating an investigation based on your information. If you wish to remain anonymous, you must be represented by an attorney, who will submit everything on your behalf.
Silver Law and the Law Firm of David R. Chase jointly have experienced SEC whistleblower lawyers, including a former SEC Enforcement attorney on the team, so you will always have guidance throughout the process. Our SEC whistleblower attorneys can help you if you have information regarding securities or investment fraud, violations of federal securities laws, false filings, market manipulation, or other misconduct. You must provide timely, credible, and original information or analysis in order to be eligible.
Contact us through our online form or at (800) 975-4345 for a consultation. Our attorneys work on a contingency fee basis. This means that it costs you nothing to hire us, and we collect our fees when you receive an SEC bounty. Because we get paid when you do, we have the incentive to help you collect the maximum award available.