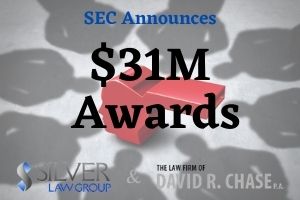 In two separate cases, the SEC has awarded four individuals sums that total over $31 million for critical information that led to successful enforcement actions.
The first award of $27 million went to two individuals who not only provided the agency with vital information, they offered continual assistance and met in-person with agency staff on three different days. Their information and ongoing assistance for an existing investigation helped secure the specific allegations that led to charges against the company.
A third individual involved with this case was denied any award because they provided no information to the agency during the course of the investigation.
In the second case, the agency awarded $3.75 million to one tipster, and $750,000 to the second. Ironically, the individual who was awarded the larger amount had their original claim denied, but appealed the decision. That information they provided led to a claim against an individual, and ultimately an award, by proving that it was provided voluntarily and prior to the request. The agency later stated that the individual awarded the larger amount "provided information and assistance that was more important to the resolution of the overall case."
Note that these awards are completely funded by the financial sanctions imposed on the individuals and companies that are the subject of successful enforcement actions. Monies recovered on behalf of harmed investors are returned to them, in accordance with the Congressionally established investor protection fund rules.
The SEC also protects the identity of all whistleblowers in accordance with the rules set out by the Dodd-Frank Act.
What Makes A Whistleblower
A whistleblower may be lauded as a hero when exposing fraud, wrongdoing, or other misconduct. However, a person who decides to blow the whistle is also taking a risk that they will be subject of personal or professional retaliation.
The SEC's Office of the Whistleblower does offer financial rewards if a successful action and sanction of $1M or more is recovered. The awards are not automatic. Working with experienced whistleblower attorneys may give the whistleblower the best chance of remaining anonymous, avoiding retaliation, and getting the maximum award.
Retaining Experienced SEC Whistleblower Attorneys
Our SEC whistleblower attorneys can help you if you have information regarding securities or investment fraud, violations of federal securities laws, false filings, market manipulation, or other misconduct. To be eligible, you must provide timely, credible, and original information or analysis.
Whistleblowers help the public by notifying authorities of conduct that harms the public, while also earning financial compensation for themselves.
Contact us through our online form or at (800) 975-4345 for a consultation. Our attorneys work on a contingency fee basis, which means it costs nothing to hire us and we have the incentive to get you the maximum award.