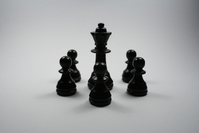 The Securities and Exchange Commission ("SEC") has taken the side of the whistleblower in a dispute against mutual fund giant Vanguard Group.
The SEC filed a brief on March 28, 2016 in support of David Danon, a former lawyer at the Pennsylvania-based money manager who said Vanguard terminated him because he raised concerns about some of the firm's tax practices.  Danon filed a wrongful termination lawsuit against Vanguard in late 2015.
The Dodd-Frank Act entices "whistleblowers" to come forth and help the SEC identify possible fraud and other violations much earlier than might have been possible, consequently reducing harm to investors, preserving the integrity of U.S. capital markets, and swiftly holding perpetrators of unlawful conduct accountable, according to the SEC Office of the Whistleblower website.
Additionally, the Act offers confidentiality, protection from retaliation, and rewards fraud tipsters for reporting wrongdoing that leads to an SEC enforcement action in which over $1 million in sanctions is ordered.  The award can range anywhere from 10 to 30 percent of the sanctions, according to the website, and more than $55 million in total has been paid out to 23 whistleblowers since the program was first established.
Just in January, a whistleblower was awarded more than $700,000 for conducting a detailed analysis that led to a successful SEC enforcement action.
By law, the SEC protects the confidentiality of whistleblowers and prevents retaliatory actions, but issues have surrounded defining a whistleblower who should be afforded protection.  Courts thus far haven't been consistent about whether or not a whistleblower who reports internally first is protected by the Act or not.
In its most recent brief, the SEC cited a broader reading of the Act and argued that employees are not required to report matters to the SEC first to pursue a whistleblower claim – an argument consistent with the brief it filed in February 2016 in another case between a former Morgan Stanley Smith Barney LLC advisor and the firm.
Scott L. Silver, managing partner of the Silver Law Group, was an early proponent of the legislation and authored a primer on the SEC Whistleblower Program.  Our legal team includes former defense attorneys and government prosecutors now working to protect whistleblowers.
Silver Law Group is committed to the protection of whistleblowers through the whistleblower claim process and can prosecute your whistleblower claims.  If you have questions about your legal rights as a whistleblower, please contact Scott Silver of the Silver Law Group for a free consultation at ssilver@silverlaw.com or toll free at (800) 975-4345.