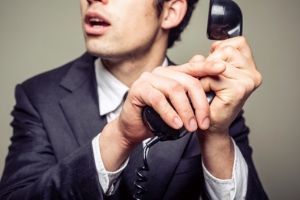 Securities sales is a hard business on a good day. And the pressure to sell and hit a quota is often hanging over many agents' heads. That's even more true when there's a downturned market filled with skittish investors. But "boiler rooms" are another thing entirely. Typically run out of call centers filled with unregistered sales agents, boiler room scams convince unwitting investors into pouring money into worthless investments. And while boiler rooms are an old con, they've been getting recent technology updates that have law enforcement around the world taking notice.
In fact, fraudsters don't even need an actual boiler room. They work remotely, just as many of us do.
In March 2022, the Securities and Exchange Commission and Financial Industry Regulatory Authority (FINRA) worked with the Argentinian, Mexican, Panamanian, Colombia, Singaporean, Swiss, and other nations' governments to bring down a boiler room operating out of Medellin, Colombia. Even the Royal Canadian Mounted Police were on the case.
In that case, the defendants allegedly created fake websites, invented contact names, spoofed American telephone numbers, and more to promote non-existent investment management firms to entice investors. They made $58 million by deceptive trading in penny stocks.
While the defendants' alleged boiler room was decorated with "newfangled" technological bells and whistles, the SEC says their primary strategy was an old one: a classic "pump and dump."
In a pump and dump, the con artists cold-call potential investors, promising that they have insider access to a stock on the rise. But the con artists themselves bought the stock, just to make it appear as if there was interest in the market. Then investors who buy the stock are often buying the con artists' shares.
Boiler Room Red Flags
In May of this year, a New York City jury convicted a man known as "Mr. T" for running a boiler room operation that defrauded dozens of American and Canadian victims. Of course, the defendant was not the famed actor. Instead, it was another man, Robert Lenard Booth. But the confusion over his name is worth noting because it's related to Booth's boiler room scam.
Booth was convicted of securities fraud, wire fraud, and money laundering. He set up fake investment companies with names that were similar to real firms, to convince his victims they were investing with legitimate companies. Then, to seal the deal, he had his victims sign non-disclosure agreements and send money to accounts they believed were held by clearinghouses in New York, Hong Kong, and Singapore. But the firms were in fact boiler rooms located in New York, Panama, and Thailand, and clearinghouses were fronts for Thai money laundering operations.
Following his conviction, Booth faced up to 45 years in prison.
Like other recent cases, Booth's boiler rooms are a notable reminder. With websites, spoofed phones, and other tech, those who might have been small-time con artists in the past can now ensnare a huge number of victims around the globe.
Because of that, the Securities and Exchange Commission (SEC) and other law enforcement agencies are counting on whistleblowers to come forward and reveal these scams. If a whistleblower's tip leads to a successful prosecution, the whistleblower may get an award of 10-30% of the money recovered by the federal government. And the SEC award program doesn't just apply in cases against licensed agents and companies. It applies in boiler room cases, too.
In the meantime, if you are considering becoming an SEC whistleblower on a boiler room, don't wait. Call the attorneys at Silver Law Group and the Law Firm of David R. Chase. Our attorneys have formed a strategic alliance to represent SEC whistleblowers. Having years of experience in securities fraud tips and in representing whistleblowers, they can discuss your case, clarify legal issues, and start to explain your options going forward. For a free, confidential consultation, email us or call us today at (800) 975-4345.